Ferrocerium (ferro) rods are an absolute necessity for an outdoor expedition — especially in the colder temperatures. A Ferro rod is a method for generating sparks to light a campfire. Because it's an absolute drag if you've ever been camping and had no source of warmth.
If you're a camper or outdoor enthusiast, fire can be a trusty companion in the wilderness. While fire is extremely useful to make food and water safe for consumption, it can also keep you safe from hypothermia.
In addition, fires allow you to signal for help, should you ever need emergency aid. And of course there will be times when the weather doesn't want to cooperate. The temperatures can be unpredictable, especially when you're camped at higher elevations. These types of situations are when a ferro rod come in handy.
Unfortunately, there will be times when conditions are wet and windy and building a fire proves to be quite a challenge. But, as long as you packed a ferro rod or spark rod as a backup to a lighter or matches, you're golden.
Get Great Guns and Ammo Deals!
---
What is a Ferro Rod?
A Ferro rod (short for ferrocerium rod) used for starting fires, is a small metal rod made from a material called ferrocerium, which is a man-made metallic alloy that generates extremely hot sparks when scraped with a rough surface.
How to Use a Ferro Rod
To use a Ferro rod, you typically hold the rod firmly in one hand and use a metal striker or other rough surface to scrape it forcefully. This generates a shower of hot sparks that can ignite dry kindling or other fire-starting materials, allowing you to start a fire even in wet or windy conditions.
Ferro Rod Advice for Newbies and Veterans
I'm not an avid camper, but I have had my share of campouts with my kids. Some good, some bad and some just complete disasters. But we always make sure to bring a ferro rod. So what's the difference between rods? Do they need to be expensive or bigger to be better?
I can tell you this … never forget a ferro rod when the temperatures are freezing cold! With these kind of weather conditions, you absolutely, positively must be prepared. Believe me, if it takes too long for a spark to ignite, then your rod isn't the ideal product. You'll need to purchase one that features a minimal strike time in addition to a good grip.
Steps to Lighting Fire with Ferro Rod
Have a look at the following tips on how to effectively start a fire if you're a newbie, or just a veteran who needs to brush up on your ferro skills …
Make sure to buy a quality make and model. You can buy a cheap version at any sporting goods store, but you'll need to do research if you want one that delivers the quickest results.

Invest in a good scraper. You will need this because as you make a spark, white-hot pieces of the ferro will fall off. But, you can use any sharp object to scrape the rod. A hard steel scraper is usually the best to get.

Gather tinder: dry branches, driftwood, bark, paper or grass.

Use serrated edge of striker (scraper) to scrape along the length of the rod to create shavings.

Shavings will accumulate, so proceed to scrape the pieces into a small cluster.

Hold the flint at an angle, while sliding your striker along the length of the flint to create sparks.

Continuing doing this until the sparks land on the shavings pile and ignite the flame.
Tips for Preparing Tinder for Ferro Rod Ignition:
To get the spark to start a fire, first get some fine tinder or a fire starter. If you don't have a fire starter, a diy method you can use is cotton balls infused with petroleum jelly.

Make sure to use the proper technique. Angle the scraper at 45-degree angle and place the end of the rod right next to the tinder. Be wary of bulk rods — while some are great and cheap, you'll need to test one first to guarantee it's made of good quality.

For an inexpensive option, a mini-rod style is convenient for an emergency sparker. Just toss it in the back of a truck or somewhere else for easy access.
Here's some of the best Fero Rod top picks …
---

The Sparkie by Ultimate Survival is a mini version of their popular Blast Match. The Sparkie is an immersion-style starter that contains a spring-loaded spark rod and an internal tungsten carbide scraper. Simply press the thumb button to engage the scraper and it will slide down the rod and onto your tinder.
This tool is ideal if you're working with one hand due to an injury or otherwise. In addition, it's also the perfect accompaniment for ultralight backpacking, hunting, camping, and emergency use. The only downside is the Sparkie has a slender rod and therefore will start fewer total fires than larger products. Nevertheless, it can be rotated to extend its lifespan.
Features
Ultra-lightweight fire starter
Designed for one-handed use
Sparks can be initiated in rain and other unfavorable weather conditions
Generates sparks three times hotter than a normal match
Will last over 100 strikes
Durable plastic stands for rugged use
Collapsible rod
Measures: 2.3 x 1.25 x 0.6 inches
Weight: 0.8 ounces
Color: Orange
---
The new Compact Fire Starter by Gerber belongs to their Bear Grylls line of survival equipment. Survival is all about being prepared for the unexpected and who else knows more about survival than Bear Grylls?
The ex-British Special Forces officer is an experienced mountaineer and well-respected survival trainer. You're guaranteed to get your fire going with a ferro rod featuring the name Bear Grylls.
Simple, yet functional, this compact fire starter features a pendant-style ferrocerium rod that can be worn around the neck as a lanyard for the utmost in convenience.
Although the ferro rod is small, it does have a secure, textured rubber grip. This ideal survival companion is checkered with a faceted aluminum sleeve that stores the rod and also acts as the scraper handle.
The ferrocerium is easy to ignite with long-burning sparks. Its two-piece design is lightweight and perfect for the colder weather or while wearing gloves. The durable anodized aluminum makes sure the Compact Fire Starter is capable of enduring the roughest of situations and also features a water-resistant design.
As a bonus, The Bear Grylls Priorities of Survival Pocket Guide is included with this ferro rod.
Features
Convenient two-piece design
Paracord lanyard to easily attach to a keychain, backpack, or zipper
Lightweight design for effortless carrying
The Bear Grylls Priorities of Survival Pocket Guide included
Measures: 3.4 inches x 6 inches
Weight: 8 ounces
Constructed of anodized aluminum
---
The Exotac NanoStriker XL + Tindertin produces some of the largest individual-sized sparks. Housed in a checkered grip, anodized aluminum case, the quarter-inch ferrocerium­-and-magnesium rod anodized aluminum case also holds an I-beam-shaped tungsten carbide striking tool.
Designed as a pendant-style tool, this ferro rod is a great addition to an ordinary keychain for daily use — or you can tie a lanyard to it, as the striker is very small and may easily get lost.
The included tinder is available as either splinters or shavings, but you made need fibrous material to really catch some great sparks. Overall, the Exotac NanoStriker is a respectable choice in ferro rods.
Features
Ultra-portable for keychain, pocket and neck carry
Ferro rod is replaceable and works when wet
Up to 3,000 fire-starting strikes
Collapsible self-contained waterproof fire starter
Measures: ¼ inches
---
The Zippo Emergency Fire Kit isn't your standard fero rod set up. It consists of a compact, waterproof container that contains several key components for starting a fire.
Inside the container, you will find a Zippo lighter with a special wick that is designed to stay lit even in windy or wet conditions. The kit also includes five easy-to-light wax-coated cotton fire starters that can be used to ignite dry kindling or other fire-starting materials.
To use the Zippo Emergency Fire Kit, you simply remove the Zippo lighter from the container, flip open the lid, and strike the flint wheel to ignite the wick. You can then use the lighter to ignite one of the wax-coated cotton fire starters, which will burn for several minutes and provide enough heat to ignite larger pieces of kindling.
Features
Lightweight, rugged plastic case
Water resistant (not waterproof) O-ring seal
5 easy, lightweight paraffin wax-coated cotton spark tinder
Trusty flint wheel ignition
---
The EricX Light Ferro Road Flint Fire Starter is extra large and designed to light fires in any weather conditions, as it's both waterproof and weatherproof. Fully equipped with a super thick rod, this flint fire starter will provide you with a shower of sparks to light fires instantly.
In addition, this super thick rod lasts for more than 12,000 strikes. The EricX Light is the perfect size for backpacking, hiking, camping, hunting, fishing, and much more.
Features
Comes in a pack of two with a lanyard hole
Perfect for the outdoor adventurer
Measures 6 inches in length ½-inch in diameter
---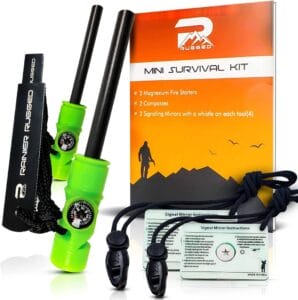 The Rainier Rugged 5-in-1 Glow-in-The-Dark Fire Starters Kit is a versatile and durable fire-starting kit that includes several key components that can help you start a fire quickly and easily, even in challenging conditions.
It also comes with in addition to the ferro rod and striker, the kit also includes 2 compasses, and 2 signaling mirrors with a whistle.  A really smart feature is the ferro rod handles glow in the dark, making it easy to find in dark conditions.
Features
Survival multi tool with magnesium rod, flint striker
Features a paracord lanyard
Glow in the dark handles
Shaft features a durable strong, non-slip grip
Great addition for a backpacking emergency kit
Perfect accessory to add to your survival gear, rope climbing gear, hunting gear, and camping gear
---
Best Ferro Rod – Final Thoughts
Overall, the Exotac and Gerber spark rods were better equipped to discharge sparks up to three feet. Additionally, the Ultimate Survival Technologies and Light My Fire ferro rods created broad showers with scores of sparks — most likely from lots of little pieces of burning ferro. A spray like that increases your chances of hitting receptive spots in your tinder.
As we've stated many times in our past reviews, when choosing the best product for your needs, it comes down to personal preference. In regards to ferro rods, make sure to pick according to what you need it for and how you will use your ferro rod in your particular environment.
In the end, a fire starter is just one of many items that you will need for any camping, hiking, or hunting trip.
Another piece of advice is to always make sure you invest in a good striker, as it can make all the difference in your fire. Lastly, while the most expensive rods aren't always the best quality, the least in price aren't always the worst quality. So, do your research, read reviews, and try before you buy. Good luck!