The MP Shield is a lightweight, slim, concealable pistol. The MP Shield offers professional level features yet still offers consumers simple operation and reliable performance, time after time. We review MP Shield Holster Options.
Smith & Wesson firearms are known all around the world. They are known to be reliable and trustworthy sidearms. This is undoubtedly one of the reasons you chose the MP Shield to play an  important role in your self defense lifestyle.
Now, you may be at the point where you need to make another big decision. What is the best holster for the MP Shield? This decision is just as big as the decision you made when you chose the MP Shield.
MP Shield Holster Quick Pick
My favorite holster for the MP Shield is the CYA Supply Co. Inside Waist Band Concealed Carry Holster. This great, lightweight, little holster is high quality and fits the Shield perfectly.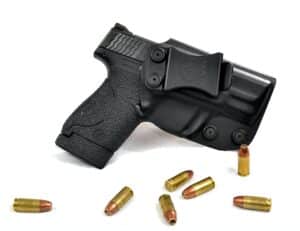 This does not mean there aren't other great options out there. I'll list my other top picks for you. First, I would like to talk about some History and fun facts about Smith & Wesson.
Get Great Guns and Ammo Deals!
---
The History Of  Smith & Wesson
Smith & Wesson was formed in 1856, after Horace Smith and Daniel B. Wesson failed at their first attempt to form a gun company in 1852.  By 1854 the first company was in financial crisis and they sold to a shirt manufacturer named Oliver Winchester. In 1866 Winchester used Smith & Wesson's first lever action design and became Winchester Repeating Arms Company.
Smith & Wesson's first revolver was the first successful fully self-contained cartridge revolver.
To maintain market superiority, they knew they had to develop a new design before their patents expired. They began marketing the Model 3 American in 1870. This revolver was the first large caliber cartridge revolver and solidified Smith & Wesson as a worldwide leader in handgun manufacturing.
Two big customers for this new revolver were the Russian Imperial Government and the United States Cavalry. The United States Cavalry purchased 1,000 revolvers for the western frontier. Some would say it was a big part of how the west was won.
Smith & Wesson's contribution to the gun industry continued, even into the twentieth century. They developed the .38 Military and Police, which is one of the most famous revolvers in the world.
The Model 10, as it is called today, has been in continual production since the late 1800's. The .357 Magnum was introduced in 1935. In 1955 they also introduced the Model 39 which was the first American made double action auto-loading pistol.
---
Famous Smith & Wesson Shooters
Jesse James
Some infamous people used a Smith & Wesson. Jesse James and his brother, Frank were among them. They holstered the Model 3, which is better known as the Schofield.
Jesse James was killed by a shot to the back of his head. The gun used? A Smith & Wesson .44 used by one of the Ford brothers.
Major George Schofield
Major George Schofield, of the Union Army Cavalry, requested the Model 3. He made the changes he thought were necessary for the Cavalry and submitted those changes to Smith & Wesson. By 1875 they had made those changes to the Model 3 and it became known as the Schofield.
George Patton
It is said the great General, George Patton, carried a Smith & Wesson 357 Magnum along with a Colt 45. Part of his flamboyant nature was his ivory handled guns.
Wyatt Earp
Old west historians believe Wyatt Earp and his brother Virgil used a Smith & Wesson Model 3 for the gunfight at the OK corral.
Wyatt was given a Smith & Wesson Model 3 by the mayor of Tombstone, John Clum.
Others
Smith & Wesson Model 3's were apparently popular with lawmen and outlaws during the days we remember as the wild west. Others who reportedly liked them were John Wesley Hardin,  Pat Garrett, Theodore Roosevelt, Billy the Kid and the Wells Fargo Banking and Protective Services, among many others.
Pop Culture
Smith & Wesson have made their name in pop culture too. We all know the most famous movie character to use a Smith & Wesson was Dirty Harry. The Dirty Harry series was released in 1971 making the Smith & Wesson Model 29, in .44 caliber the most famous gun in modern history. Dirty Harry was played by actor and director, Clint Eastwood, who is a vocal gun rights advocate and carries to this day. He owns and collects Smith & Wessons.
There's a list of Hollywood celebrities who own some Smith & Wesson's. Of course, it's all rumor because we know that being a gun rights advocate is not a popular thing in Hollywood circles. Johnny Depp, Brad Pitt, Angelina Jolie and Bruce Willis are some names floated around when you speak of celebrities and guns.
I would expect Smith & Wesson to carry on well into the future of handguns in the USA and throughout the world.
Let's get on with our top picks of holsters for your Mp Shield. Isn't it great to do business with a great American company who has been spearheading their market for over 150 years?
---
Best MP Shield Holster Options
As we mentioned the CYA is one of our favorites, but we feature 4 other MP Shield Holsters that certainly will work for you depending on your tastes.

A top of the line holster for a great price. This holster is made from Boltaron thermoplastic which is similar to kydex. Boltaron out performs kydex in heat resistance and impact resistance. Keeps it's shape for the long haul. Cant is adjustable from 0 to 15.
CYA Supply Co. IWB MP Shield Concealed Carry Holster Features
Adjustable cant

Slim

Made from boltaron thermoplastic

Made in USA

No question ask return policy, guarantee
| Pros | Cons |
| --- | --- |
| Slim | Can be sharp against your body when sitting |
| Lightweight | Clip is for thinner belts |
| Comfortable | Clip attaches from the top |
| Easy draw | |
| Easy re-holster | |
| secure | |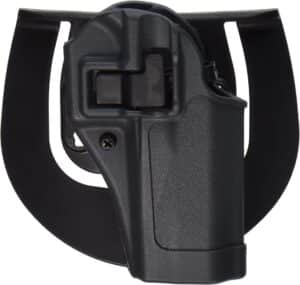 This holster features a unique speed cut design. Smooth draw and re-holster won't slow you down.
Blackhawk Serpa Sportster MP Shield 45 Holster Features
Serpa auto lock release

Superior draw

Reinforces full master grip

Level 2 retention
| Pros | Cons |
| --- | --- |
| Secure for active wear | Needs belt to hold securely |
| Perfect fit for the Shield | Difficult to remove paddle |
| Two options for carrying | Gap between paddle and holster |
| Release and draw is smooth and easy | A little uncomfortable while sitting down |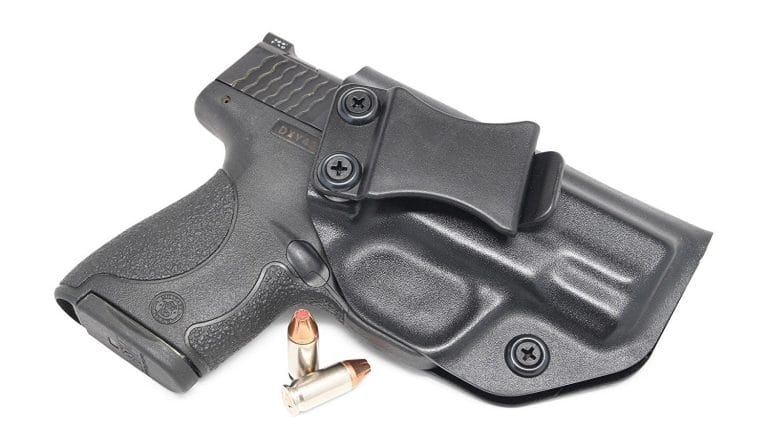 These holsters are molded for each gun model for a perfect fit. They are designed to be worn inside the waistband with an untucked shirt for concealment. Equipped with an audible posi-click retention lock system to let you know when your weapon is fully holstered.
Concealment Express Kydex IWB 380 M&P Shield Holster Features
Integrated sweat shield

Posi-lock retention lock system

Molded for each gun model

Covered trigger area

Adjustable cant 0-15 degrees

Lifetime warranty
| Pros | Cons |
| --- | --- |
| Not detectable | Retention screws poke out a little |
| Lightweight | Can be uncomfortable while sitting |
| Comfortable | Can be uncomfortable for bigger bellies |
| Well made | Edges come sharp and need to be sanded down |
| Easy on and off | |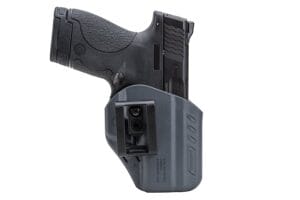 This holster was designed with comfort and versatility in mind. It's ambidextrous, comes with two belt clips and has adjustable retention hent. Allows for use of mounted rear red dots.
Blackhawk Appendix Reversible IWB MP Shield Holster Features
Ambidextrous

Molded polymer

Two clip sizes for different belts

Two mounting positions for higher or lower mounting

Carry small of back or appendix
| Pros | Cons |
| --- | --- |
| Allows for a full grip on the gun | Can be uncomfortable with sitting |
| Slim | Sharp edges |
| No printing | Small amount of printing in certain type shirts |
| Firearm feels secure | Clip is plastic |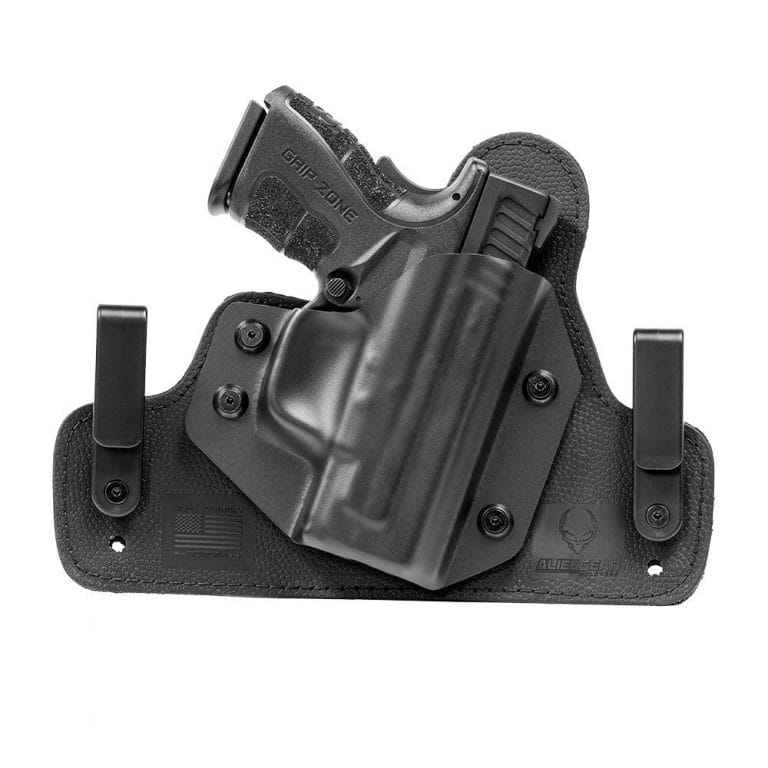 This holster is built with neoprene and has a flexible base that requires no break in time. It is built to be firm yet flexible. Adjustable retention, adjustable belt clips for ride height and cant. You set the comfortable carry position.
Alien Gear Holsters Tuck 3.5 IWB Holster for MP Shield – Features
No break in time needed

Adjustable ride height

Adjustable cant

Adjustable retention

Waterproof

Made in USA

Lifetime warranty
| Pros | Cons |
| --- | --- |
| Comfortable | May need thread locker to keep screws in place |
| Secured with two clips | Hard to get into the right spot |
| Great retention | Hard to take off |
| Wicks moisture well | Check hardware if you haven't used a threadlock |
| Materials appear to be durable | |
What Holster Works for a MP Shield EZ?
You have to be very careful when selecting a holster for MP Shield EZ due it's specific dimensions. Here is our choice when it comes to EZ Holster options for the 9mm and 380: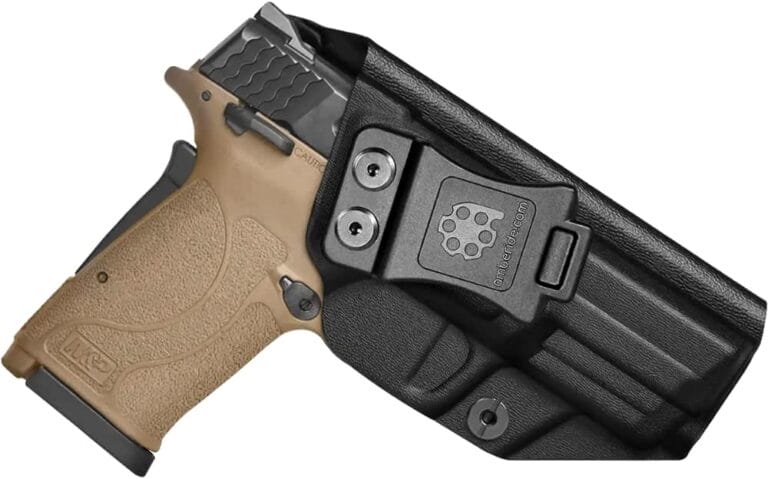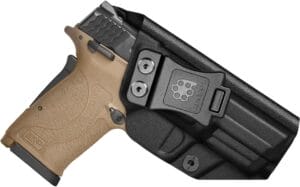 The Amberride 9MM EZ Holster features .08″ KYDEX & Boltaron that is strong yet lightweight for comfortable, confident carry in any situation. Waterproof and washable, it features a sweat guard that covers the full length of the slide to help maintain your side arm in pristine condition.
The Polecraft KYDEX IWB m&p 380 shield ez holster is very thin and has no sharp edges or corners for comfort and convenience. Can be effectively hidden under the clothes.  This MP 380 Shield EZ holster has a Posi-Click Audible Retention Lock system to ensure safe, effective concealed carry.
---
MP Shield Holster Options – Conclusion
These are the top picks for you to keep in mind as you are hunting for the holster that works best for you. It's always a personal preference decision and only you can decide which will work out the best for you. I think there are some great leads for you in this list.
Just to recap, my first choice is the CYA Supply company IWB holster. It is such a durable holster. I like that it is made from boltaron thermoplastic.  It's super slim, easy to use and securely carries your firearm. It really is a top of the line holster for a great price.
In addition to the top picks, I hope you enjoyed the little history on the Smith & Wesson. They are a great gun company and I enjoy doing business with them.
Recommended Reading
Concealed Carry Compact Holster For MP 22
Top Concealed Carry M&P 9c Holster
Glock 43 VS. Smith And Wesson M&P Shield