Crossbow hunting grows in popularity each year, throughout the country. You may be one of the crossbow hunters who is in the market for a scope. Hawke has a reputation for making great scopes for crossbows and you have been asking, what is the best Hawke crossbow scope? I have done some research for you and came up with my list of top Hawke Crossbow Scope picks.
Hawke Crossbow Scope – Quick Pick
My favorite Hawke crossbow scope is the 3X32 IR Crossbow Scope.

This scope is crossbow specific. It is made to be high performance, features a crossbow speed selector that allows the scope to be matched to any bow. The optics are fully multi-coated for high level light transmission, red and green illuminated reticle which is designed to offer range points at 10 yard intervals from 20 to 100 yards.
Get Great Guns and Ammo Deals!
---
Things To Consider When Buying a Crossbow Scope
The main reason people will buy optics for a crossbow is to increase their effectiveness while hunting. With new technologies being added, using a scope makes hunting with a bow deadlier and easier all the time. Getting a great scope for your crossbow will give you a huge advantage.
Check Your Local Laws
While hunting with a crossbow is growing in popularity, there are still many restrictions placed on it. Make sure whatever type of crossbow and accessories you use, are legal in your state. If the equipment you use is banned on a vertical bow, during archery season, it is probably illegal on a crossbow too.
Trying to interpret state hunting regulations (especially with crossbows) feels like you need a law degree. First you need to determine if crossbows are permitted, then figure out when they are permitted. Some states allow them during specific seasons and some in partial seasons. Then you need to check restrictions on equipment.
Crossbow Scope Compromises
As you look at scopes for your crossbow you will come to realize you may have to make some compromises along the way. Lets face it, high end scopes don't come cheap.
The best way to get around these obstacles is to have a plan in place. Know how you will use your scope and then you can whittle down what features you may not need.
Magnification
The whole reason for getting a scope is to magnify your target. Being able to see your target better will help you be able to set up a good shot. You will want to figure out what level of magnification you will need for your circumstance.
More is not necessarily better. With a crossbow scope, 5x is probably more than enough and not necessary. You wouldn't want an arrow flying more than 100 yards towards that deer, anyways.
Almost more important than how much magnification is how clear the image is. As a hunter, you want a crisp picture in your scope, that has lots of detail, so you can pinpoint exactly where to shoot.
Optic Quality
You will also want to consider how good the optics are. Light transmission is pretty important in a scope, since good hunting times can be early morning or late afternoon/evening, when light is sometimes poor. For hunting purposes, multi coated lenses let in the most amount of light. Look for a scope that provides at least 92% light transmission, especially if you are an early morning hunter.
Another feature that a hunter wants is a nitrogen filled scope. Nitrogen doesn't change when the weather gets cold. Often hunting is in the winter or early spring, so make sure you pick a scope that is fogproof. Nothing will make you lose a shot quicker than not being able to see through your lens because it's fogged up.
You also want to know how good the reticle is on your scope. Make sure you pick a scope that provides range compensation markers for all the different ranges you might take a shot from.
You may also want a scope that has an illuminated reticle. For hunting in low light conditions, the ability to turn on an illuminated reticle in important, and it's even better if you can choose between red or green illumination.
Field of View
Next, you will want to know how good the field of view (FOV) is. A nice field of view means you can see more of the terrain, through the scope, at 100 yards or less. This will give you the ability to scout out the land for signs of your prey.
Mounting The Scope
It's best to get a scope that is easy to mount. Who wants to have to take their bow to a shop to get their accessories mounted? When you purchase a scope, you want it to come with rings. You also want to make sure the rings it comes with are good quality.
Zero It In
You want a scope that's easy to sight in and holds zero throughout your hunting trip.
The best scopes have fingertip adjustments to windage and elevation. You don't want to have to take out a toolset to adjust your adjustments. The knobs should turn with audible clicks so you know how much you are adjusting.
Durability
After you know your scope is a good choice for your circumstances, it has good optics, good FOV, is easy to mount and sight, and holds zero, you want to make sure it is a durable one and will be worth the money you spend.
Top Hawke Crossbow Scope Picks
Let's get to our top picks. As I write out these reviews, I take into consideration everything I have listed above. Let's figure out which Hawke scope will get you the best bang for your buck.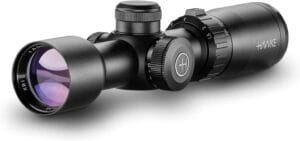 This scope is quick to get you set up and shooting. It is easy to mount, easy to use, has a great field of view and the lenses are crisp and clear.
Features
Crossbow speed selector

Multi-coated

Dual color reticle

Precision reticle for 10 yard intervals
| Pros | Cons |
| --- | --- |
| Great for low light | The illumination could be brighter |
| Great for the money | Caps seem a little flimsy |
| Very clear | |
| zoom/speed selector works really well | |
| Very accurate | |
| Easy to calibrate | |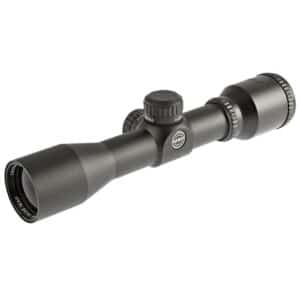 This scope features a high performance optical system that is designed to increase your success in the field. The wide angle image is bright and crisp. The long eye relief eye bell design works great. You will enjoy many hours of crossbow shooting using this scope.
Features
Multi-coated optics

Fast focus eyepiece

Finger adjustable

Resettable turrets

Ballistic reticle with aim points from 20 to 60 yards
| Pros | Cons |
| --- | --- |
| clear, bright optics | No mounting rings |
| Great field of view | No illumination |
| Affordable | |
| Durable | |
| Holds zero | |
| Easy to adjust | |
This scope is high performance and crossbow specific. It features a speed selector allowing the scope to be matched to any bow with shooting speeds between 275 feet per second and 425 feet per second.
It also features flip up lens covers, and a reticle that has been designed to offer aim points at 10 yard intervals from 20 yards to 100 yards.
Features
1 inch tube diameter

Glass etched illuminated reticle

Red and green illuminations

Aim points out to 100 yards

Speed selector ring

Adjustable turrets
| Pros | Cons |
| --- | --- |
| Works good in low light | A little heavy |
| Illuminated reticle works great | |
| Adjustable reticle | |
| Good quality | |
| Affordable | |
Hawke Crossbow Scope – Final Thoughts
As you are shopping for a new scope you will find yourself doing a balancing act of function, features and cost of the scope. Some features may drive up the price but are not worth much out in the field. On the other hand, small features that are left out can make it worthless.
Define what it is you need your gear to do for you and figure out how many features you are willing to pay a little extra for. This gives you a good starting point to start your shopping.
I feel the Hawke 3X32 IR Crossbow Scope will give you the best bang for your buck. This scope is awesome, has very clear and crisp optics, good illumination, and the zoom/speed selector works very well.
Whichever scope you choose, get out there and practice with your bow. Practice all year long so that you can have greater accuracy next hunting season.
For more gun scopes reviews, go to our Gun Scope Reviews Resource.
Recommended Reading